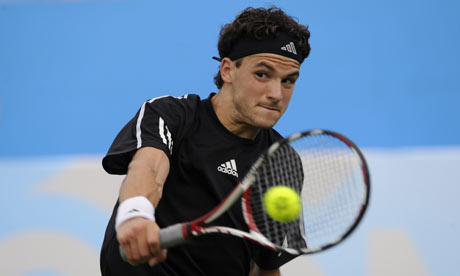 It looked like he'd gotten away with it, but Bulgarian website Tennis Kafe is reporting that hotshot teenager Grigor Dimitrov has been handed a three week suspension for shoving an umpire last year.
The incident occurred after Dimitrov's semi-final defeat to Ricardas Berankis in the Helsinki Challnger last November and it appeared until now that he'd escaped with just a €2,000 fine.
It wasn't the first time he'd displayed a rather unhealthy disdain for officialdom.
According to Tennis Kafe, the player's three week ban began on January 3 but given that it was imposed by the ATP, the player was free to play the Australian Open (run by the ITF of course).
Leaving aside how fucking ludicrous that sounds, it means that Dimitrov will serve another two weeks starting from the 22nd of January, in addition to handing over a $10,000 fine.
How the second week of a slam he was already knocked out of can count as part of the sentence is a complete and utter mystery to me but that seems to be the case.
He was allowed to play an ITF event yet the second week of the same ITF event counts towards his suspension?
When the decision was actually made also remains a mystery for now.
The other obvious question is if Dimitrov was really suspended from January 3, why the hell did nobody even know about it?
The player himself made no mention of it in Melbourne and had only this to say of the incident:
"It's something that happened. It will never happen again."
Well that's good to hear.
Dimitrov has been one of the biggest stories in tennis so far this year so wasn't the fact that he was eating a ban at least worthy of an official ATP statement?
The whole affair has been a complete and utter farce from start to finish.
You can read a dodgy translation of the original article here.
Dimitrov was on the entry list for the South African Open that starts next Monday but will apparently be forced to sit it out. He was also originally down to play Chennai in the first week of the season.
If the story turns out to be true, Dimitrov can count himself as lucky. He missed one, possibly two Mickey Mouse ATP events and was still able to boost his ranking by reaching the second round in Melbourne as a qualifier.
That'll learn him. Learn him good.
Given the incident in question, some sort of ban was better than nothing but it looks like a slap on the wrist at best and raises more questions about the ATP's ability to deal with discplinary matters than it answers.
Dimitrov will be ranked well inside the top 100 when the rankings are updated on Monday and he's likely to return to action in the qualifiers in Rotterdam next month.